Know Your Dehumidifiers 
Global Drying Equipment supplies our customers with the tools they need to complete restoration and construction jobs. Some of our most popular equipment includes our LGR dehumidifiers and desiccant dehumidifiers. In this blog, we'll explore how both types of dehumidifiers work and the best applications for each.
LGR Dehumidifiers
LGR—or low grain refrigerant—dehumidifiers work by pre-cooling damp air before it passes over super-cool coils, which dries air faster than traditional dehumidifiers that only use the coils. LGR dehumidifiers are significantly more efficient than other dehumidifiers, use less energy, and can work even in very low-humidity conditions.
When and How to Use LGR Dehumidifiers
Most restoration professionals would use LGR dehumidifiers in residential or light commercial restoration projects that require the removal of water. Water may have accumulated due to:
water lines bursting or perpetually leaking,
fire sprinkler lines flooding,
water damage due to a fire loss from the fire hoses,
groundwater leaking into a structure,
flooding,
storm damage,
or many other reasons.
Once the standing water and the lost material are removed and extracted, LGRs are brought in to finish the drying process. Because of their smaller size and maneuverability, these dehydrators are perfect for smaller areas where the whole facility may not be affected. They are also a great solution for targeted drying, for example in a specific wall, crawl space, or room that has experienced smaller water-related issues. LGRs have specialty adapters and air filters that make the units a good fit for many applications.
At GDE, we carry and consistently use three models of LGR dehumidifiers: Phoenix 200 MAX, Phoenix 200 HT, and Phoenix R200. Click each link to learn the specifics of each piece of equipment. The GDE staff is also happy to answer any questions you have about specific equipment.
Desiccant Dehumidifiers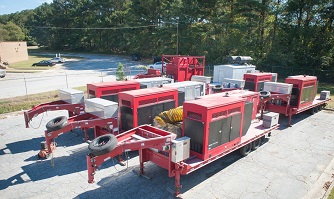 A desiccant is a material that naturally absorbs water from air, other gasses and liquids. There are various desiccant materials, but the dehumidifiers we use employ silica gel (which is actually a granular substance, not a gel). Desiccant dehumidifiers work by drawing in damp air, absorbing the moisture, then blowing out dry air. The dry air encourages evaporation throughout the area. The desiccant dehumidifier employs a wheel containing the silica gel. As this wheel turns, the gel cycles continuously and repeatedly through absorption and heating stages. The heating stage expels the absorbed moisture from the gel.
When and How to Use Desiccant Dehumidifiers
At GDE, 3000-5000 CFM desiccant dehumidifiers are our "bread and butter" sizes, especially the 5000. These pieces are the workhorse of our business. These units are capable of drying small, medium, and large area losses, both residential and commercial. Our customers use them in:
warehouses

office buildings

apartment complexes
churches
large residences
and more.
Desiccant dehumidifiers are not just for water losses and flooding. Because GDE's units are rented and transportable, they can also be used to produce a temporary climate or atmosphere to help different manufacturing systems and processes. Some of our customers use desiccant dehumidifiers to create a temporary climate with low humidity for commercial storage tank refinishing. No-humidity or very low humidity allows for a much faster refinishing process, so the raw material does not rust and corrode after being stripped before refinishing. Another significant application is drying concrete substrate in preparation for installing modern flooring materials. There are numerous other uses for desiccant dehumidifiers in a variety of industries.
Global Drying Equipment uses CDI dehumidifiers. Our units are custom built for us and mounted to a trailer with a diesel generator for self-sustaining power. This means we can deliver desiccant dehumidifiers where and when you need them, in almost any type of circumstance. Contact us today to find the right size and use for your project.
Posted in
Company News
|
Construction
|
Restoration Facts