New Equipment: Portable Desiccant Dehumidifier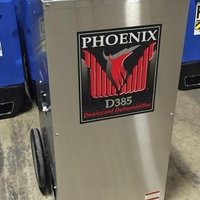 At Global Drying Equipment, we're constantly analyzing our inventory to ensure we have the best products to meet our customers' needs. We have recently added a new dehumidifier that we feel confident will be a real asset to construction and restoration professionals: the Phoenix D385 Portable Desiccant Dehumidifier.
The Phoenix D385 portable desiccant is ideal for drying narrow rooms like attics and crawlspaces. This powerful dehumidifier will run efficiently when vertical or horizontal, so you can position it as needed to best access any space. Additionally, it runs while plugged into two standard, household wall sockets of 120 volts – so you can put it wherever you need it, without bringing in extra power or finding high-voltage sockets. And unlike many other portable desiccants on the market, the D385 has real capacity to process air – 385 cfm.
Features of the Portable Desiccant Dehumidifier
Removes water at 116 pints/day at AHAM
385 CFM capacity blower
Operates in temperatures of -10°F to 140°F.
Weighs 105 pounds
Uses common household wall socket (2 plugs at 120 volts/each)
Learn more about the Phoenix D385 on the Phoenix website. To schedule a rental, contact Global Drying Equipment today.
Posted in
Company News